The Difference Between A Good Date and The Perfect Date
It's all about planning, about putting some thought into going that extra distance to make her feel special. For most men, it's hard enough to get the big things right, and yet, the more you work at it, the better you will get at the finer details. By "details," I'm talking about the extras, the before and the after thoughts that will be remembered long after the last flower has wilted.
Good verses Perfect is not a function of how much extra money you spend, but rather one of how much time you spend on attention to detail. What woman would not appreciate a bouquet of fresh flowers before a date? Or better, a bouquet or wreath of her favorites? Does she like chocolates, or caramels? In some instances, a wonderful champagne is the perfect start to The Perfect Date. And perfume can make a good gift.

The key here is appreciating the unique woman you are dating. But you can't do that unless you listen to her. I'm sorry, but I have to repeat myself because most men just don't get it: You have to listen to her! If she tells you she loves daisies, and you turn around and buy her a dozen roses, you've missed an opportunity and she's discovered you are not a good listener.
I've heard from men who've been insulted after going the extra step to provide a gift, only to feel it went unappreciated. In most cases, they've reluctantly admitted they hadn't listened. If she tells you she's allergic to perfume, and you go out and buy her a nice bottle of Halston because you liked the way it smelled on the girl at the counter, it's not fair to be angry that she's not ecstatic about your gesture.
Of course, if you hire The Perfect Date, we will make sure she is impressed by your before and after thoughts. Beyond that, we will work with you. We will show you how it's done so you can begin planning perfect dates on your own!
Flowers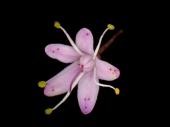 When considering flowers for a date, most men automatically think roses because they're easy. It's simply a matter of going to the local supermarket floral department, grabbing a dozen roses out of a bucket and paying at the register. And while that's fine for some occasions, all you are getting is basic flowers, rather than an artistic arrangement. If you want to get her flowers, put some time and thought into it.
First of all, find out what she likes. If she doesn't have a particular flower favorite, focus on her favorite color. And unless you have special expertise at arrangements, consult with a florist. Finally, this gesture doesn't have to be expensive. Sometimes you can say more with a single flower than you can with an entire bouquet. (see flowers)
Sweets For the Sweet

Like flowers, candy will be around long after the date is over, reminding her of what a thoughtful guy you are. Don't assume chocolate, because as hard as it might be to believe, some women prefer other sweets. If you are getting chocolate, don't buy her a generic, cellophane wrapped box from the grocery store. Find out her preferences. Does she go for the nuts and chews, or does she love the butter creams? Once you determine what she likes, take a trip to a local confectioner and hand select and assortment and have it wrapped. Attach a bow and a card, and you are good to go.
Champagne! Caviar!

Truly an elegant duo, but not for everyone. A good bottle of California brut will cost you between $15 – $25, though you can get some decent sparkling wines for about $10. A crisp glass of champagne at the beginning of a date definitely gets things off to a fine start. A basic rule for caviar: buy the good stuff or don't buy at all.
Caviar is an acquired taste. If you've tried it before and didn't like it, take an occasion to try it again. There is a reason it's so expensive. An ounce of Osetra will run you about $150, but if you have the money, it's worth every penny. (see guide to buying caviar ) If caviar is a little too rich for your blood, you might have your champagne with smoked salmon and capers for about $7.
Limousine Service

The long, sleek, shiny car and driver will surely impress her, and when combined with a well organized plan, it will deliver a "wow" factor to your date. Limos, because they're expensive, are not for everyday outings. When considering renting one, ask yourself, "Does it fit into the plan or is it the plan?" You might consider one for a tour of the area's wineries. Special deals start at about $250 an outing plus tip, and if you email me, I can recommend a service and might be able to get you an additional discount.
I have listed just a few of the extras, but I have other helpful suggestions that are too many to list here. If you want to make that date really special, The Perfect Date is here to help.