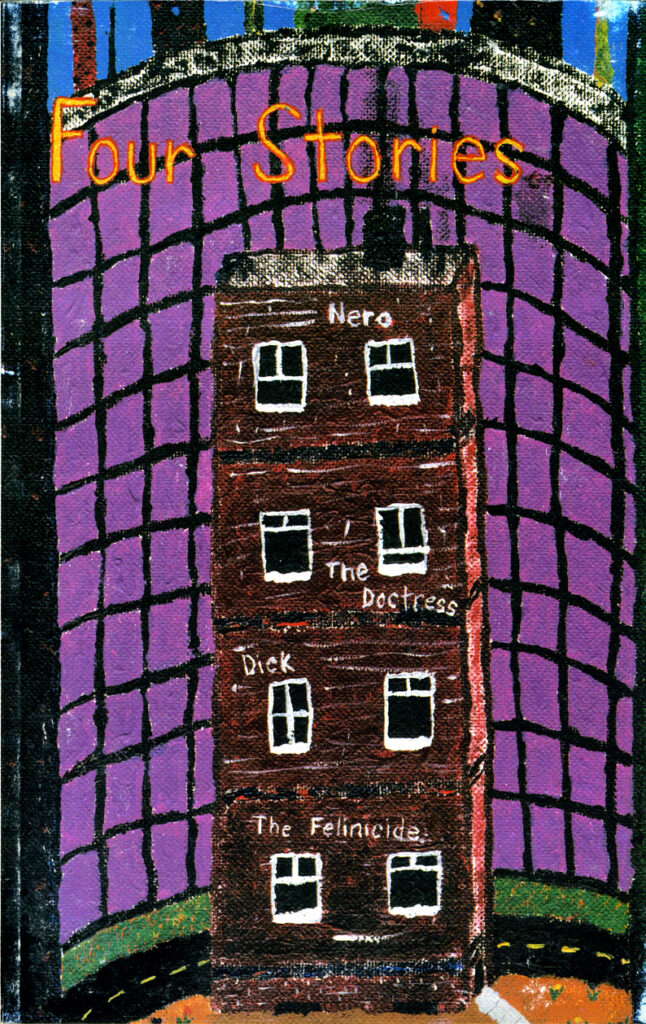 First published in 1998, Four Stories is the first short story collection written by Marcus McGee, a favorite for readers who appreciate the author's twisted humor. The stories are loosely autobiographical and center on issues involving family life. Yet they illustrate how political family life can become at times. The Felinicide, for example, is an examination of the death penalty, wherein the protagonist is a cat. The three remaining stories are Dick, The Doctress and Nero. The author has also included Black Bertha,  a poem composed in trochaic octameter, an homage to Poe, his favorite writer, reminiscent of The Raven.
Get Your Copy of Four Stories Today!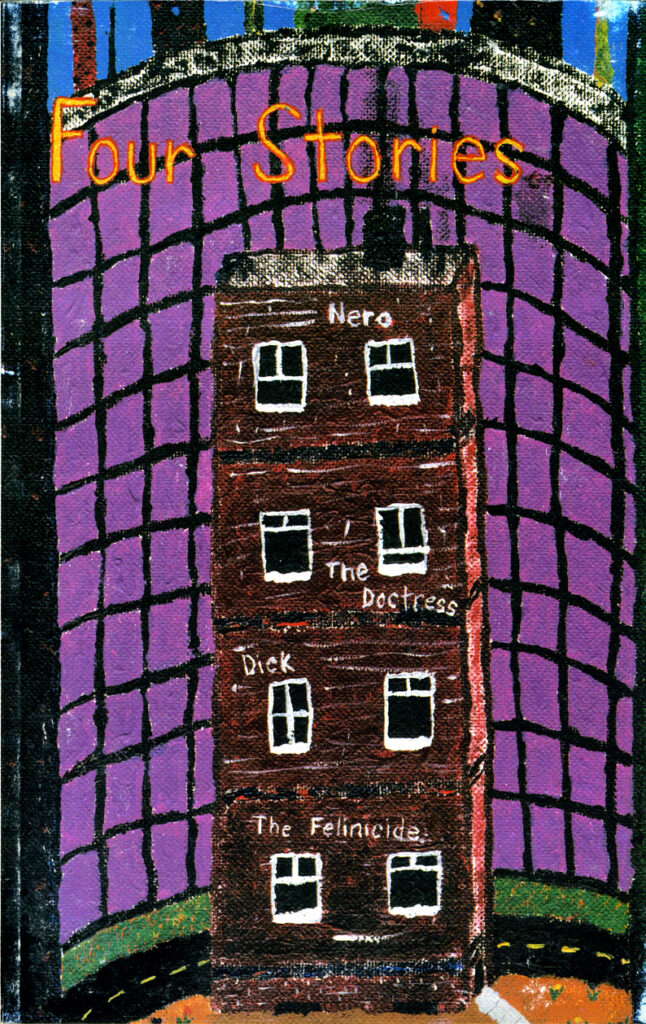 THE ATTIC (epilogue from Four Stories)
Because I have always loved good stories, I have spent a great deal of my life pursuing them, actively reading and listening to them. The various yarns I've enjoyed have ranged from the lyric verses written by ancient Homer of Ionia to colorful African-influenced tales steeped in oral tradition as told by my ancient grandfather Homer of Mississippi. Born to American parents in a place between Berrechid and Fédala in Morocco during August 1960, I have been blessed to share in the experiences of many wonderful people inside and outside the United States.
While the family moved to California when I was nine, I remember writing my first complete story at age ten. It was a silly story about a sardonic and ill-tempered T-bone steak that suddenly came to life on my plate and engaged me in argument. Notwithstanding, my fifth grade teacher, Mr. Winans, loved the story and suggested that I should pursue a career as a writer.
The rest of the meaningful people in my world however, steered me toward more reasonable and secure ends, and I was encouraged to endeavor in the legal and engineering fields, which I did. I never wrote another story again until my second year of college.
I certainly could have become a lawyer, and I could have no doubt finished the rigorous engineering curriculum, although I don't know how content or competent I would have been in either career. I never found out because I forsook all that "celebrated" security to pursue the quixotic dream of one day becoming a successful writer.
I remember the moment of epiphany in which I accepted writing as my destiny. It was during a Calculus mid-term in my sophomore year. As I sat there, writing proposed character dialogue in between test problems, the professor approached and asked me to stay after class.
Anyway, during the course of our conversation, I found out that he was a frustrated writer who had chosen the security of a teaching career over "just getting out there and giving it my best shot." He told me that if I wanted to write, I should find a major that was more compatible with writing and that I should stay on course right to the end.
Taking heed, I promptly moved over to the Communication Studies department, intent on law school after graduation. At that point I took up writing in earnest. I started with prose, and then I moved to poetry. Eventually, the poems got longer and evolved into dialogue.
Eager to delve into a new genre, I took a playwriting class and wrote a play in verse about two star-crossed lovers called Solomon and Constance (1980-1981), yet I found the Elizabethan-style and language unsuitable to contemporary preferences. My second play, called Michael Angelo (1982), took up the debate on Black English, or Ebonics, within the setting of a modern-day art academy. The next play was called Stevie: the Eighth Wonder of the World (1982), a musical based on the works of Stevie Wonder. I directed and produced it at a small theater in Sacramento during July, 1983.
Shortly thereafter, I wrote three short stories called Mr. Peacock (1983), Till Death Do Us Part (1983) and Anthropophagi (1983). Then came the plays Caesar (1983) and Table 21 (1983), two plays I never got around to producing. Still, they were great studies for writing dialogue, which was useful for the writing of No More Cheesecake! (1984), a musical comedy I wrote in twelve days, and one I later produced, directed and starred in at the Sacramento Community Center Theater in 1990.
Enjoying the plays, I wrote one of my favorites called Kidstuff next (1985). During 1985 and 1986, I wrote a 500+ page mainstream suspense novel called Deus Ex Machina, a quasi-political work about an aspiring presidential candidate with an alarming past. That novel was followed by another play called Dream (1986), based on the writings and philosophy of Dr. Martin Luther King, Jr. I spent seven months of 1987 converting Dream into screenplay form and trying to manage funding for production.
Failing to acquire necessary financing, I decided to explore a new genre, so I wrote a series of stories that I called The Love Tragedies (1987- 1993), an ongoing set of original stories written in blank iambic meter. Seeking to take up still another genre, during 1989 I began an ambitious project on a major figure in California politics: a biography on erstwhile Speaker of the State Assembly, the Honorable Willie L. Brown, Jr.
The work was ponderous, painstakingly detail-oriented and took over six years, more than 300 interviews and involved 2,000+ research hours, let alone the time involved for the actual writing. I titled it Willie: The Man, The Myth & The Era (1990-1996). It was my first and last biography, as I did not enjoy the genre.
Because the project was so onerous and "un-creative" in comparison to other works, I took a number of breaks to write stories. Synchronicity (1991) was first, followed by Remember (1993).
I decided to write the Willie Brown book in the "passive first person," but because I had never written in the narrative form, I needed an exercise to find a comfortable voice. My narrative experiment resulted in the first story of the Four Stories series: The Felinicide (1992). The subsequent stories, Dick (1996), The Doctress (1997) and Nero (1997) involve the same first-person narrator, a person I like to think I know very well.
My most recent works include Legal Thriller (1998), a 430 page suspense thriller, Estéban, a cynical story about a talking pig, and the beginnings of a screenplay (1999), called The Last Year.
Because I was loath to include a "Preface" in this collection, I feel a degree of obligation to say a few words about the background of the book. All Four Stories are loosely based on my own experiences and the experiences of various people around me.
Notwithstanding, The Felinicide was written after April 1992, in the wake of the publicity surrounding Robert Alton Harris. In fact, a character from the story utters a disturbing line attributed to him. The media-concern from Nero was partially inspired by a Ted Koppel speech I heard and analyzed years ago in college classes, while the nature of the debate over dinner was influenced by elements of the O.J. Simpson murder trial.
At present I am working on the screenplay, a few literary projects, 11 new stories and a proposed collection of stories from the South. Enough of all that.
Anyway, I hope you've enjoyed our little chat up here in the attic as much as I have, but more than that, I hope my Four Stories have made you curious about other works and future stories. If they have, then perhaps someday much more of my work will be available for public perusal.
Until then, I thought I'd end this book with a little extra: a poem I wrote as a tribute to one of my favorite storytellers, Edgar Allan Poe, in the rhyme and meter of The Raven. It is titled Black Bertha. I hope you enjoy it. Until later, I'll see you between the covers!
Good Reading,
Marcus McGee