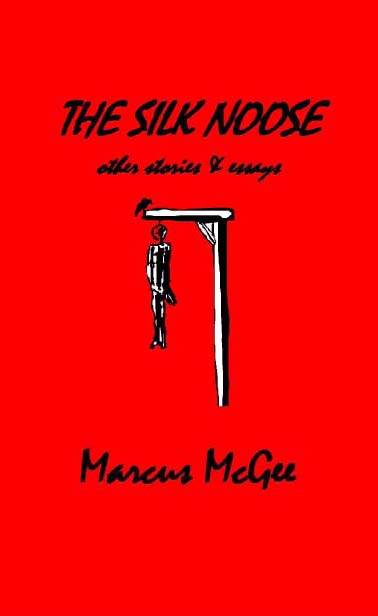 The Silk Noose is the third short story collection by Marcus McGee, following Four Stories and Synchronicity. By far his most eclectic collection, it contains his usual twisted stories, including Denouément, Dork and The Silk Noose, but it also includes a parable, an operatic libretto and three essays, On Niggers and Squirrels most personal to the author among them. The other essays, On The Execution of Timothy McVeigh and On The Seven Year Hitch, were purposed to begin discussion. Named for one of the stories contained therein, many will find this album his most entertaining so far.
Get Your Copy of The Silk Noose Today!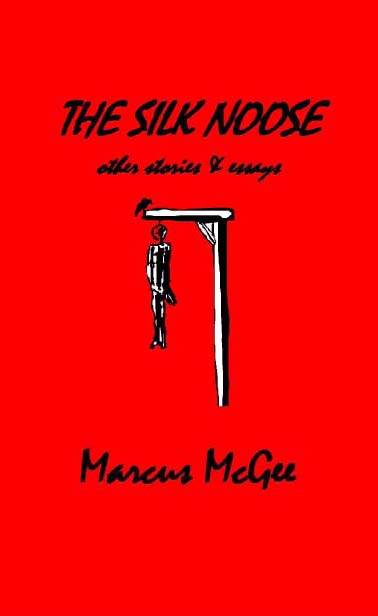 Hangin (epilogue from The Silk Noose)
After this my third short story collection, I think I'm just beginning to loosen up a little. I'm not as worried about what you might think of me. I know what I am. I've looked up to writers I've admired over the years, though recently I've learned to look within. I don't always like what I see, and I'm certain some of you might prefer my lighter stories, but I have a dark, twisted, cynical side that I'm slowly learning to accept.
This collection is certainly more eclectic than the previous two. I started with one of my favorites of the collection, Denouément, a cautionary tale about the fate of living the selfish life. Dork explores how a rose by some other name might never get smelled to make the comparison.
And then begins The Silk Noose, or Le Lacet de Soie, written in three distinct parts, or three acts. It's a yarn I've enjoyed reading or performing for audiences because the narrator is somewhat neurotic, like me. Between the acts are the two parables, Bad Advice and The Singing Poet, or Thanatos. The latter is an operatic libretto based on the Bible book of Job. I dreamed I watched a performance of this opera, and I sketched the story line when I awoke.
After The Silk Noose trilogy come the essays. I wrote On Niggers and Squirrels in the late 1990s, and it is clearly the most personally felt of the three. It was originally published in pamphlet form and sold out quickly. It has been used by school districts for teacher diversity training and as required reading in college classrooms. On Timothy McVeigh is a cynical look at true punishment and On the Seven Year Hitch contains a modest proposal to save modern marriage.
At last and because I am a poet at heart I included Goddess, in which I've cast myself as Pygmalion, though instead of cold stone, I used heated words to sculpt the perfect woman.
And so we are at the end of another book. You are now literally reading the last page. In keeping with the pattern of alternating novels and short story collections, my next works will be Murder From the Grave, a serial murder thriller set in San Francisco, then Sanity Slipping, another short story collection, and finally Viral Vector, a sequel to Legal Thriller. The story turns on an emerging pattern of murder of California Death Row inmates.
I hope you have enjoyed The Silk Noose, other stories and essays. I'm already working on stories for the next collection. In the meantime, if you have any comments or suggestions, please feel free to share them through my email or website. Until the next time—I'll see you between the covers.