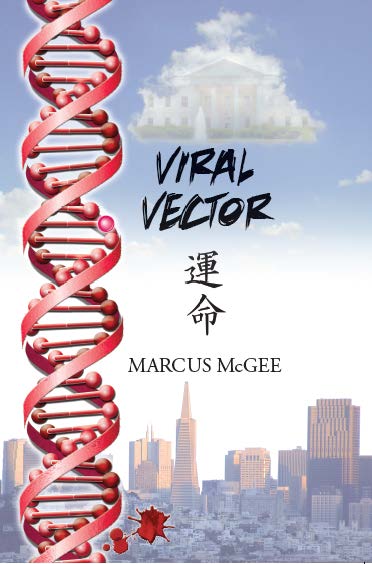 Viral Vector – You understand the words, but the concept is vague. You are not alone.
Think of the President's controversial drone program, complete with a verified kill list, a degree of secrecy and the complicit approval of the American people.
Now think of an advanced technology that would take the precision of a drone strike down to a DNA-specific level, meaning targets would die as a result of their own DNA being weaponized and turned against them. It was never a matter of "if," but a matter of "when."
Viral Vector is the story of a group of billionaires who, after investing money, technology and political capital, have turned the "when" into the "now." They have perfected politically-motivated assassination to a pure DNA-specific science. It is the power over life and death – the power of a god, which goes beyond drones, which wreak havoc, death and destruction from the skies.
This novel begins with a discovery that Death Row inmates at San Quentin Prison in San Francisco are being quietly murdered and ends in a desperate effort to foil a plot against the White House. Utilizing gene therapy and an aggressive viral vector engineered specifically for the purpose, a group of billionaires seeks global power through discreet political assassination. In the backdrop of a presidential election and a justification based on the President's drone program, protagonist Destiny Mitchell (from Legal Thriller) faces overwhelming odds.
A frantic 3:00 a.m. phone call from a condemned murderer drags Destiny into a sinister plot that threatens all she holds dear and results in heartbreaking personal tragedy. Racing against time, she and best friend/Chronicle reporter Kiyomi are marked for death, outmatched, in the dark, and in need of a major break, which comes from a surprising source. Enjoy twist after twist right down to the provocative conclusion!
ISBN 978-0-9832608-2-0
$19.99 Retail – $15.00 on this site
Read Sample Chapters from Viral Vector
The Real Future of the Drone Program
Eerie Possibility! – From Atlantic Magazine, November 2012:
The U.S. government is surreptitiously collecting the DNA of world leaders, and is reportedly protecting that of Barack Obama. Decoded, these genetic blueprints could provide compromising information. In the not-too-distant future, they may provide something more as well—the basis for the creation of personalized bioweapons that could take down a president and leave no trace.